NCBI GenBank
Myliobatis aquila
(Linnaeus, 1758)
Common eagle ray
Classification:
Elasmobranchii Myliobatiformes Myliobatidae
Reference of the original description
Systema Naturae per regna tria naturae, regnum animale, secundum classes, ordines, genera, species, cum characteribus differentiis synonymis, locis. Tomus I. Editio decima, reformata.
Stockholm, Laurentii Salvii, 824pp.
Image of the original description
No image in first description.
Synonyms / new combinations and misspellings
Aetobatis aquila, Aetobatus aquila, Holorhinus aquila, Holorhinus cervus, Leiobatis aquila, Leiobatus aquila, Myliobates aquila, Myliobatis aff. aquila, Myliobatis cervus, Myliobatis cf. aquila, Myliobatis equila, Myliobatis noctula, Myliobatus aquila, Raia aquila, Raia aquila., Raia rhombus, Raja aquila, Raja noctula
Description :



Citation:

Myliobatis aquila

(Linnaeus, 1758): In: Database of modern sharks, rays and chimaeras, www.shark-references.com, World Wide Web electronic publication, Version 12/2023

Please send your images of
"Myliobatis aquila"
to
info@shark-references.com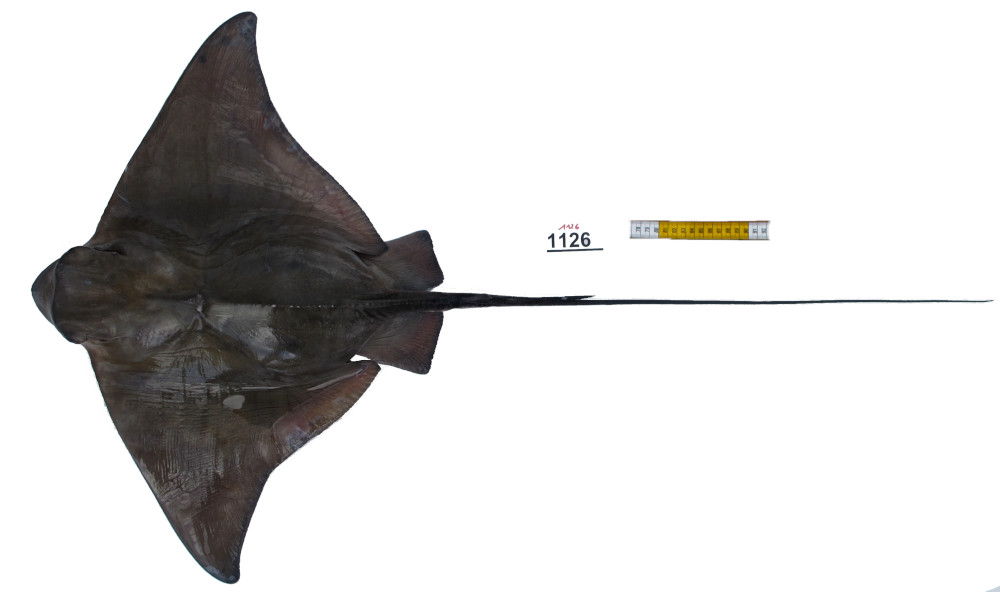 Myliobatis aquila
(Linnaeus, 1758) (ERB 1126), female, 64, 4 DW, 107, 5 TL, Eastern Mediterranean, Turkey © Frederik H. Mollen (Elasmobranch Research Belgium)
Common names

Adlerrochen,

Eulenrochen,

Gemeiner Adlerrochen,

Gewöhnlicher Adlerrochen,

Meeradler,

Aguila de mar,

Aguila marina,

Bon Jesús,

Choucho,

Chucho,

Gallarón,

Jutjo,

Milana,

Milá,

Mongeta,

Monja,

Monjeta,

Obispo,

Peje águila,

Ralapinuada,

Ratón,

Totino,

Viuda,

Aigle commun,

Aigle de mer,

Aigle de mer commun,

Ferrazo,

Glorieuse,

Hirondelle,

Lancette,

Mourine,

Mourine aigle,

Mourine noctule,

Pesce rato,

Raie aigle,

Ratopennado,

Tare,

Terre fauchée,

Épervier,

Common bull ray,

Common eagle ray,

Eagle ray,

Eagleray,

Mill skate,

Sea eagle,

Spotted eagle ray,

Toadfish,

Whipray,

Acula,

Aquila di mare,

Calumbe,

Cappuccinu,

Ciuvette,

Colombo,

Diavuluni,

Feraja,

Ferassa,

Ferraccia,

Ferri in coa,

Matan,

Mucchio caputo,

Mugghiu,

Muniacedde,

Nottola,

Orinegliu,

Pesce vacca,

Protene,

Protinu,

Taddarita,

Teraurchje,

Tistutu,

Vaccarella,

Zaraurchie,

Arreião,

Chuco,

Dormideiro,

Raia,

Raia-beiço-de-boi,

Raia-morcego,

Rato,

Ratâo-aguia,

Ratão
Short Description
A plain eagleray with a short, rounded snout; disc with broadly angular corners, and upper or lower jaw usually with 7 rows of plate-like teeth
[536]
. Brown or blackish dorsally, white ventrally
[536]
. No caudal fin
[536]
.
Distribution
Eastern Atlantic: Madeira, Morocco and the Canary Islands north to the western coasts of Ireland and British Isles and the southwestern North Sea, south to Natal, South Africa. Also throughout the Mediterranean. Source:
www.gbif.org
Human uses
fisheries: minor commercial; gamefish: yes; price category: high; price reliability: reliable: based on ex-vessel price for this species
Biology
Exhibit ovoviparity (aplacental viviparity), with embryos feeding initially on yolk, then receiving additional nourishment from the mother by indirect absorption of uterine fluid enriched with mucus, fat or protein through specialised structures
[733]
. Benthic crustaceans and molluscs are the main food items (Ref.
52801
).
Size / Weight / Age
183 cm WD (male/unsexed; (Ref.
4440
)); max. published weight: 14.5 kg (Ref.
40637
)
Habitat
benthopelagic; marine; depth range 1 - 300 m (Ref.
4440
)
Remarks
shark-references Species-ID=3853;
Parasites (arranged by Jürgen Pollerspöck)
Conoidasida
Monogenea
Cestoda
Copepoda
Hirudinea