NCBI GenBank
Negaprion brevirostris
(Poey, 1868)
Lemon shark
Classification:
Elasmobranchii Carcharhiniformes Carcharhinidae
Reference of the original description
Synopsis piscium cubensium. Catalogo razonado de los peces de la isla de Cuba.
Repertorio Fisico–Natural de la Isla de Cuba, 2: 279–484
Image of the original description
No image in first description.
Synonyms / new combinations and misspellings
Aprionodon fronto, Carcharhinus brevirostris, Carcharhinus fronto, Carcharias brevirostris, Carcharias fronto, Eulamia fronto, Hypoprion brevirostris, Negaprion aff. brevirostris, Negaprion cf. brevirostris, Negaprion fronto
Description :



Citation:

Negaprion brevirostris

(Poey, 1868): In: Database of modern sharks, rays and chimaeras, www.shark-references.com, World Wide Web electronic publication, Version 11/2021

Please send your images of
"Negaprion brevirostris"
to
info@shark-references.com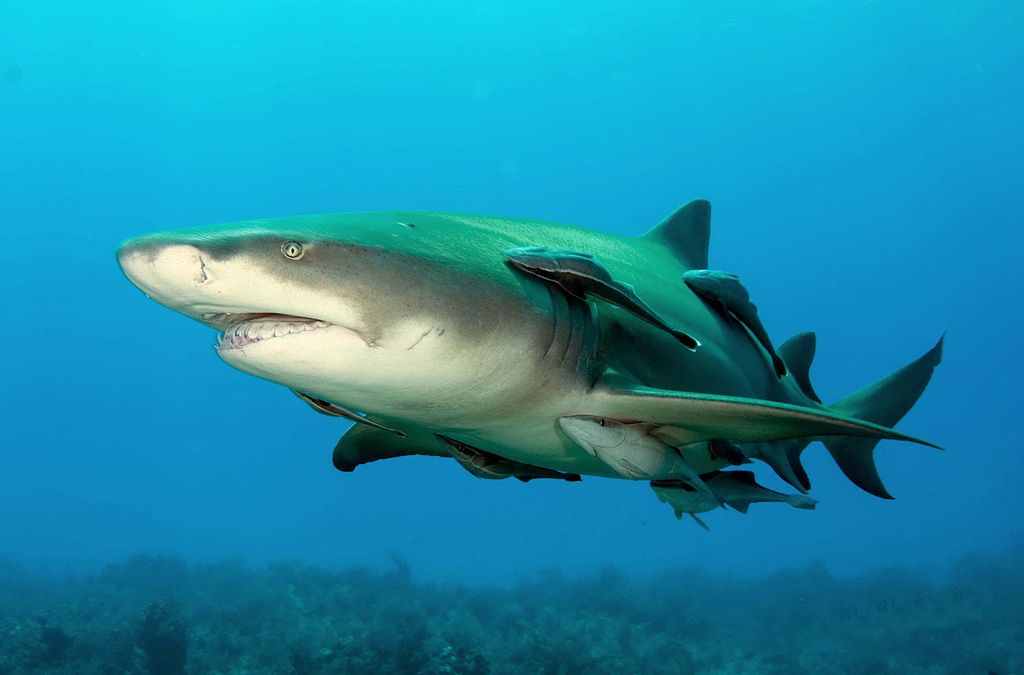 Negaprion brevirostris (POEY, 1868), © Albert Kok, wiki
Common names

Kurznasenhai,

Zitronenhai,

Galano,

Galano de ley,

Limón,

Tiburón amarillo,

Tiburón galano,

Tiburón limón,

Requin citron,

Requin limon,

Requin-citron,

Lemon shark,

Requiem shark,

Squalo limone,

Cacao-limao,

Tubarao-limao
Short Description
A brownish shark with yellow overtones but no conspicuous markings. Large second dorsal fin nearly same size as first dorsal
[17659]
.
Distribution
Western Atlantic: New Jersey, USA to southern Brazil, including the Gulf of Mexico, the Bahamas, and the Caribbean; also in Gulf of Mexico
[17659]
. Northeast Atlantic: Senegal, Côte d"quot;Ivoire and probably wide-ranging off West Africa, but this requires confirmation. Eastern Pacific: southern Baja California, Mexico and the Gulf of California to Ecuador. Source:
www.gbif.org
Human uses
fisheries: commercial; gamefish: yes
Biology
Distinct pairing with embrace
[17086]
. Viviparous, placental
[733]
, with 5 to 17 embryos (Ref.
9253
). Both male and female during precopulatory and courtship swim with body axes in parallel (Ref.
49562
, 51112). During copulation, the pair performs coordinated swimming (Ref.
49562
, 51112). Exhibits no pattern of periodicity. Feeding is asynchronous and intermittent. Daily ration is estimated at 1.5 - 2.1% body weight per day; meal completely evacuated from stomach 25-41 hr after feeding, depending on meal type and temperature; fecal production continues for 68-82 hr after feeding (Wetherbee 1990).
Size / Weight / Age
340 cm TL (male/unsexed;
[17659]
); max. published weight: 183.7 kg (Ref.
40637
); max. reported age: 25 years
[2246]
Remarks
shark-references Species-ID=4087;
Parasites (arranged by Jürgen Pollerspöck)
Monogenea
Cestoda
Copepoda
Hirudinea