NCBI GenBank
Bathytoshia centroura
(Mitchill, 1815)
Classification:
Elasmobranchii Myliobatiformes Dasyatidae
Reference of the original description
The fishes of New York described and arranged.
Transactions of the Literary and Philosophical Society of New York, 1: 355–492
Image of the original description
No image in first description.
Synonyms / new combinations and misspellings
Dasibatis centrura, Dasyatis aff. centroura, Dasyatis aldrovandi, Dasyatis aspera, Dasyatis brucco, Dasyatis centroura, Dasyatis centrura, Dasyatis centrurus, Dasyatis cf. centroura, Dasyatis gr. centroura, Dasyatis marinus, Dasyatis (Trygon) centroura, Dasybatis aspera, Dasybatis centrurus, Dasybatis thalassia, Dasybatus brucco, Dasybatus marinus, Pastinaca acanthura, Pastinachus centrourus, Raia gesneri, Raja centroura, Raja gesneri, Trigon bracco, Trygon aldrovandi, Trygon brucco, Trygon centroura, Trygon centrura, Trygon gesneri, Trygon spinosissima, Trygon thalassia, Trygon (Hemitrygon) thalassia, Trygon (Trygon) brucco
Description :



Citation:

Bathytoshia centroura

(Mitchill, 1815): In: Database of modern sharks, rays and chimaeras, www.shark-references.com, World Wide Web electronic publication, Version 11/2021

Please send your images of
"Bathytoshia centroura"
to
info@shark-references.com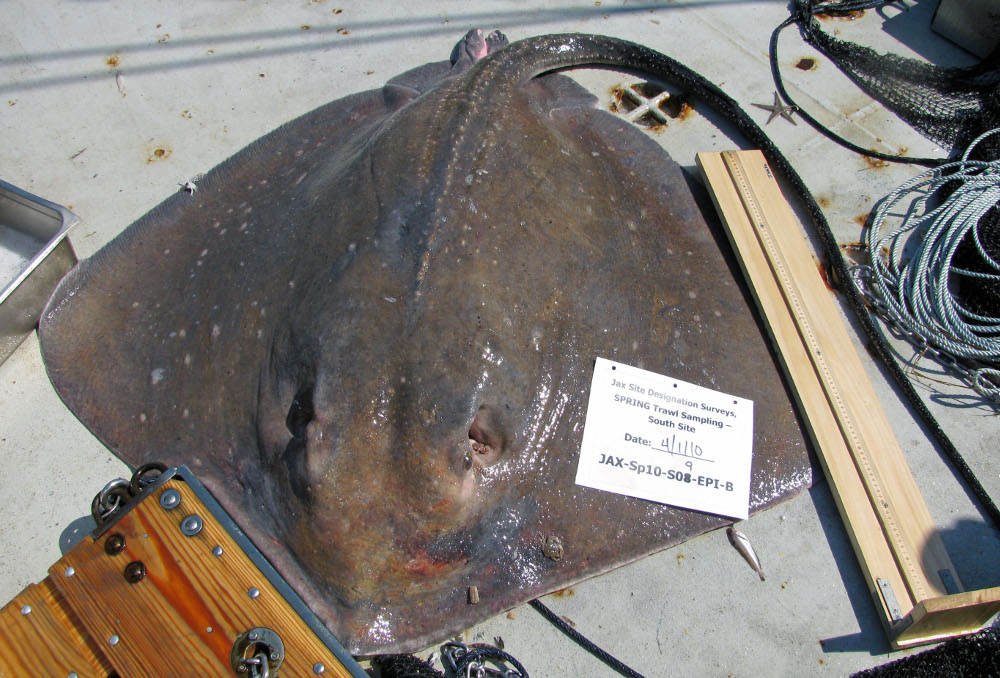 Dasyatis centroura (MITCHILL, 1815), off Jacksonville, Florida, © Jason C. Seitz, ANAMAR Environmental Consulting, Inc.
Common names

Rauschwanz-Stechrochen,

Stechrochen,

Chucho,

Raya látigo lija,

Rayalátigo isleña,

Pastenague des îles,

Pastenague à queue épineuse,

Pastenague épineuse,

Rough-tailed,

Rough-tailed northern stingray,

Rough-tailed stingray,

Roughtail stingray,

Trigone,

Trigone spinoso,

Arraia,

Arraia-prego,

Raia-manteiga,

Raia-prego,

Ratão,

Uge de cardas,

Uge-de-cardas,

Uje-de-cardas
Short Description
Disc sub-quadrangular with strongly sinuous former edges, blunt snout (Ref.
39859
). Large size and spacing of mid-dorsal bucklers, conspicuous tubercles on the outer parts of disc
[199]
. Tail with numerous rows of small spines. Ventral finfold long, but quite low, not easily seen, dorsal finfold absent
[17658]
. Olive brown above, white or nearly below. Lower surface white and without dark edgings
[199]
.
Distribution
Eastern Atlantic: southern Bay of Biscay to Angola, including the Mediterranean Sea, Madeira, and Canary Islands. Western Atlantic: Georges Bank to the eastern Gulf of Mexico; southern Brazil to Argentina
[5839]
. Age: 24 years, (198 cm in TL, 179 cm in DW, 217 kg) Mediterranean Sea
[15166]
; Source:
www.gbif.org
Human uses
fisheries: minor commercial; price category: low; price reliability: very questionable: based on ex-vessel price for species in this family
Biology
Exhibit ovoviparity (aplacental viviparity), with embryos feeding initially on yolk, then receiving additional nourishment from the mother by indirect absorption of uterine fluid enriched with mucus, fat or protein through specialised structures
[733]
. Gestation about 4 months with 2 to 4 young produced in autumn and early winter (Ref.
6901
). Distinct pairing with embrace
[17086]
.
Remarks
shark-references Species-ID=7939;
Parasites (arranged by Jürgen Pollerspöck)
Monogenea
Cestoda
Nematoda
Ascaris incrassata Molin, 1858 [17029]
Copepoda
Hirudinea
Branchellion torpedinis Savigny, 1822 [25687]