NCBI GenBank
Narcine entemedor
Jordan & Starks, 1895
Giant electric ray
Classification:
Elasmobranchii Torpediniformes Narcinidae
Reference of the original description
The fishes of Sinaloa.
Proceedings of the California Academy of Sciences,(Series 2), 5: 377–514, 30 pls.
Image of the original description
No image in first description.
Description :



Citation:

Narcine entemedor

Jordan & Starks, 1895: In: Database of modern sharks, rays and chimaeras, www.shark-references.com, World Wide Web electronic publication, Version 11/2021

Please send your images of
"Narcine entemedor"
to
info@shark-references.com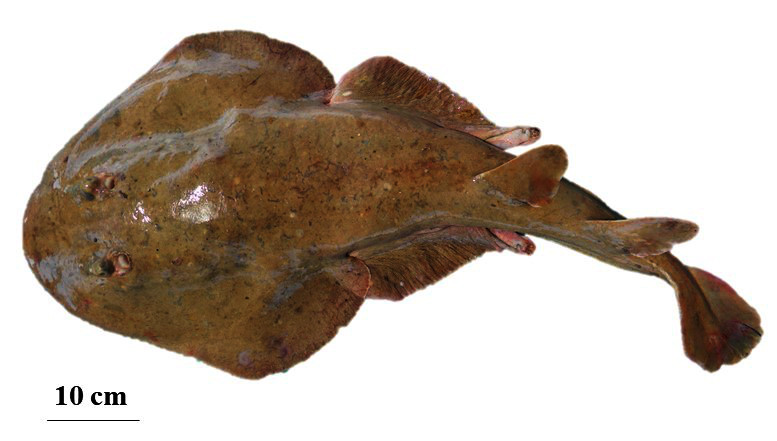 Narcine entemedor
JORDAN & STARKS, 1895 matue, male © Itzigueri Burgos Vázquez
Common names

Elektrischer Rochen,

Dormilón,

Raya electrica,

Raya eléctrica gigante,

Raie électrique géante,

Cortez electric ray,

Giant electric ray
Distribution
Eastern Pacific: Gulf of California to Peru. Source:
www.gbif.org
Biology
Found in shallow water on sandy bottoms, sometimes adjacent to reefs
[1658]
. Found buried in the sand during the day
[1658]
. Moves into shallow bays at night to feed; prefers polychaete worms, but may take sea squirts.
Size / Weight / Age
TL min/max: 16,5 cm/119,0 cm, Weight (g) min/max: 54 g/17600 g (Database: 163 specimens, collected between October 2013 and August 2014 from the artisanal fisheries in 'Los Esteros' located in Manta City, Ecuadorian Pacific (0° 56' 59'' S; 80° 42' 34'' W) and from 'La Poza' located in Santa Rosa City (02° 13'0'' S; 80° 58' 0'' W))
[22773]
Remarks
shark-references Species-ID=4033;
Parasites (arranged by Jürgen Pollerspöck)
Monogenea
Cestoda
Trematoda
Copepoda
Hirudinea