NCBI GenBank
Dipturus chilensis
(Guichenot, 1848)
Yellownose skate
Classification:
Elasmobranchii Rajiformes Rajidae
Reference of the original description
Fauna Chilena. Peces.
In C. Gay, Historia fisica y politica de Chile. Zoología, v. 2. Paris & Santiago. Fauna Chilena. Peces: 137–370
Image of the original description
No image in first description.
Synonyms / new combinations and misspellings
Dipturus flavirostris, Dipturus oxypterus, Raia chilensis, Raia flavirostris, Raia stabuliforis, Raja chilensis, Raja flavirostris, Raja latastei, Raja oxyptera, Raja stabuliforis, Raja (Dipturus) chilensis, Raja (Dipturus) flavirostris, Zearaja chilensis, Zearaja flavirostris
Types
Dipturus chilensis
Neotype:
MNHNCL
:
ICT 7549
;
Raia stabuliforis
Syntype:
MCZ
: 1138-S
MCZ
: 1294-S
Description :



Citation:

Dipturus chilensis

(Guichenot, 1848): In: Database of modern sharks, rays and chimaeras, www.shark-references.com, World Wide Web electronic publication, Version 07/2022

Please send your images of
"Dipturus chilensis"
to
info@shark-references.com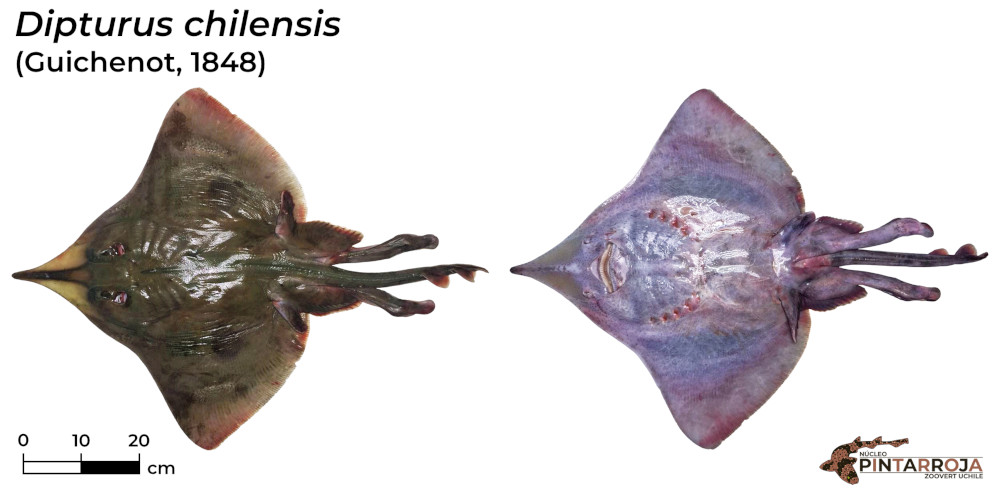 Dipturus chilensis
(Guichenot, 1848), Chile © L. Ignacio Contreras, Laboratorio de Zoología de Vertebrados, Facultad de Ciencias, U. de Chile
Common names

Raya,

Raya hocicuda,

Raya volantin,

Barn-door skate,

Yellownose skate
Short Description
Original diagnosis after Ebert 2013
[24720]
: Field Marks: A moderately large skate, with a long, acutely pointed, sub-triangular snout, and a mostly smooth dorsal disc surface, except for prickles sparsely covering snout. Dorsal surface colour is brown to reddish brown or greenish brown, and with irregular smaller blotches, spots, and stripes giving it a camouflage-like appearance; ventral surface lighter than dorsal, and with numerous black mucous pores and white areas on abdomen and pelvic–fin bases; base of pectoral fins with distinct light to dark blotches encircled by darker spots giving it an ocellus appearance. Diagnostic Features: Disc rhombic–shaped, broad, width 1.2 times greater than length, and with lateral corners angled with rounded tips; snout greatly produced, length 19 to 23% total length, acutely triangular. Total pectoral radial counts not available. Mouth broad, slightly arched; nasal curtain not fringed; teeth sexually dimorphic, with a single large cusp on adult males, more or less flattened in females; arranged in quincunx. Tooth counts in upper and lower jaws 30 to 46. Anterior pelvic lobes stout, moderately long, not extending to posterior margin of posterior lobe. Tail stout, tapering distally, relatively short, length from cloaca to tip less than distance from snout tip to cloaca. Dorsal fins separated, second dorsal fin not confluent with caudal fin. Dermal denticles on dorsal disc surface relatively smooth, excluding snout, with sparse prickles on dorsal surface; ventral surface mostly smooth except roughly textured rostrum. Thorn pattern on disc dorsal surface: pattern of 1 to 9 orbital thorns; 1 to 2 spiracle thorns; nuchal thorns either absent or if present 1 to 3; disc dorsal surface with small light coloured thorns irregularly scattered; tail with 3 to 5 longitudinal rows, including a single median row flanked by 1 or 2 lateral rows of 10 to 47 thorns; 1 or 2 interdorsal thorns; adult males with 9 to 33 alar thorns in 1 to 3 columns, and malar thorns not available; ventral surface of rostrum coarse, with dense dermal denticles and a few thorns, with small thorns occasionally on branchial region. Vertebral counts: not available. Spiral valve counts not available. Maximum total length is 158 cm. Colour: dorsal surface disc dark brown, reddish brown or greenish brown, usually patterned with irregular dark spots and blotches, and stripes giving it a camouflage-like appearance; base of each pectoral fin has a dark ocellus; ventral surface dark brown to pinkish grey, usually lighter than dorsal surface, and with numerous blackish mucous pores; whitish areas on abdomen and base of pelvic fins.
Distribution
coastal waters from central Chile to the Strait of Magellan
[27265]
Biology
Oviparous, paired eggs are laid. Embryos feed solely on yolk
[733]
. Eggs have horn-like projections on the shell
[17086]
; Size of egg capsules of Z. chilensis ranged from 94 to 144 mm in capsule length and 64 to 76 mm in capsule width
[16063]
, incubation period: 242–270 days
[26837]
Size / Weight / Age
TL (max): 158 cm, possibly 210 cm total length; TL (mature): males: about 155 cm; females: about 158 cm total length
[24720]
; TL (birth): 16.5–18 cm TL
[26837]
Remarks
shark-references Species-ID=1988;
Parasites (arranged by Jürgen Pollerspöck)
Myxosporea
Monogenea
Cestoda
Trematoda
Nematoda