NCBI GenBank
Bathyraja scaphiops
(Norman, 1937)
Cuphead skate
Classification:
Elasmobranchii Rajiformes Arhynchobatidae
Reference of the original description
Coast fishes. Part II. The Patagonian region.
Discovery Reports, 16: 1–150, figs 1–76., pls 1–5
Image of the original description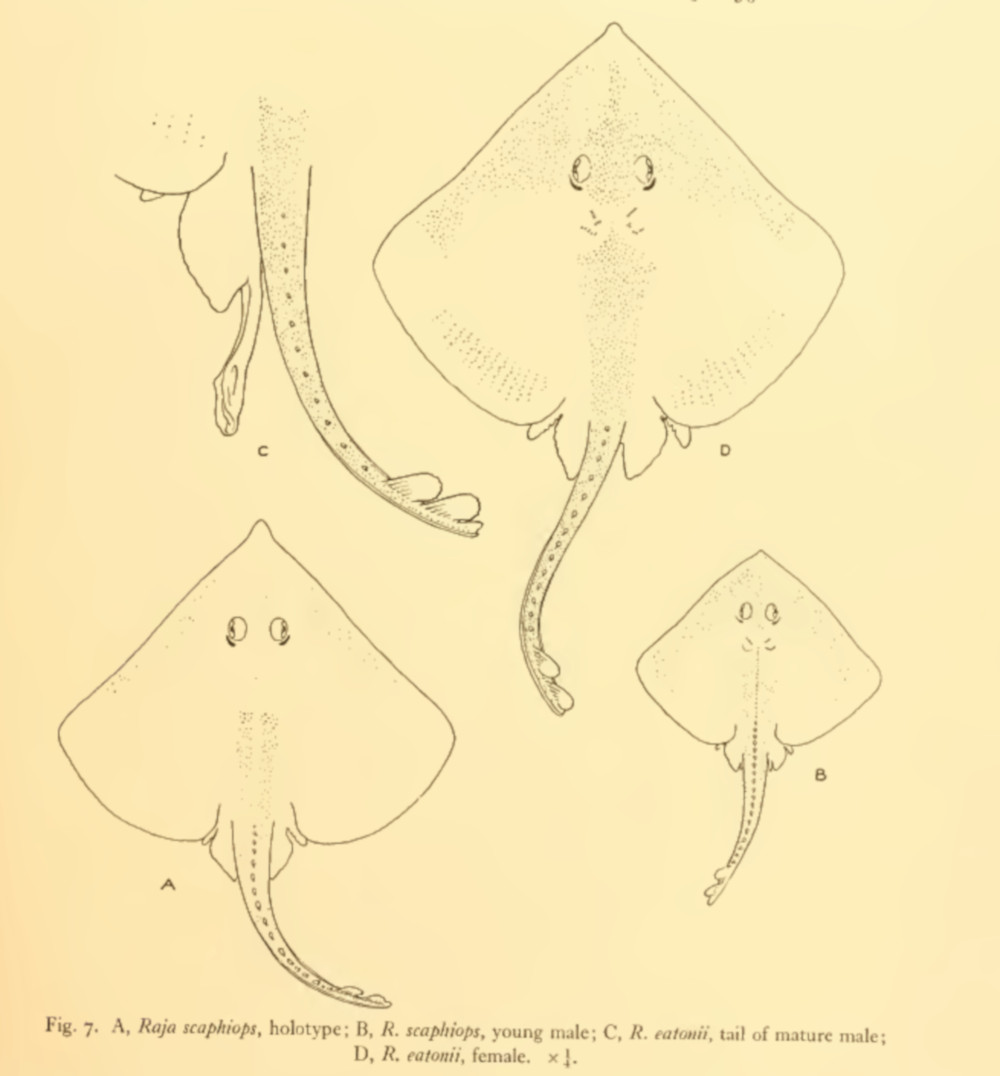 Bathyraja scaphiops (NORMAN, 1937), image of the original description
Synonyms / new combinations and misspellings
Raja scaphiops
Types
Bathyraja scaphiops
Holotype:
BMNH
: 1936.8.26.96 Paratype:
BMNH
: 1936.8.26.98
BMNH
: 1936.8.26.97
Description :



Citation:

Bathyraja scaphiops

(Norman, 1937): In: Database of modern sharks, rays and chimaeras, www.shark-references.com, World Wide Web electronic publication, Version 11/2021

Please send your images of
"Bathyraja scaphiops"
to
info@shark-references.com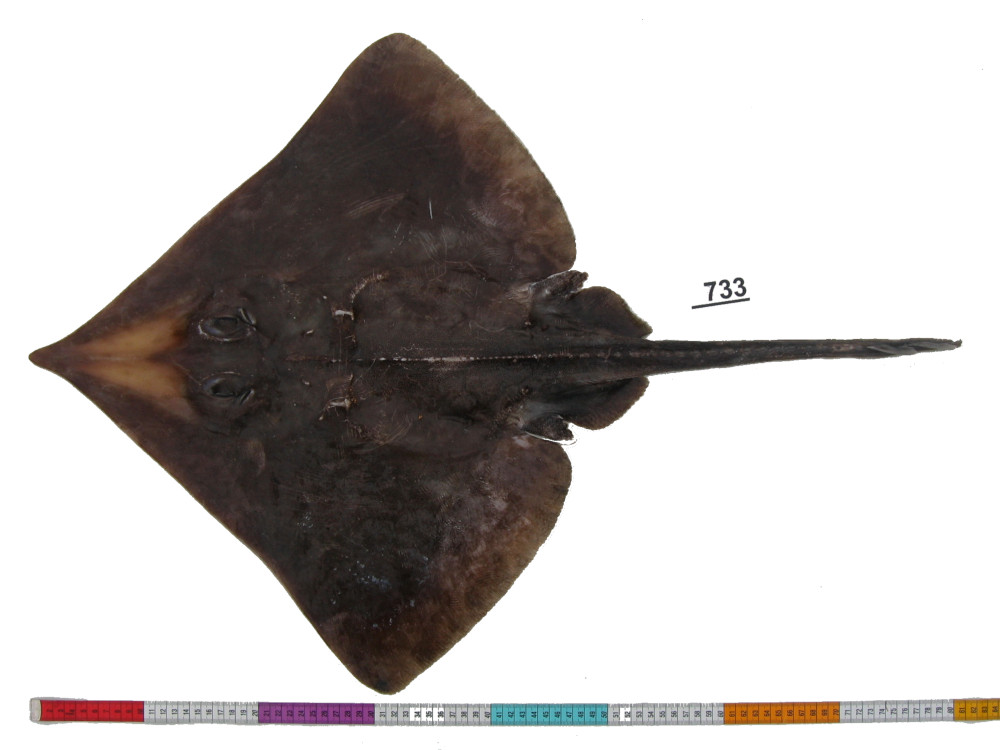 Bathyraja scaphiops
(NORMAN, 1937), ERB 0733, female, 58,2 DW, 81,6 TL, Uruguay © Frederik H. Mollen (Elasmobranch Research Belgium)
Common names

Raya picuda,

Cuphead skate,

Ray
Short Description
Original diagnosis after Norman, 1937
[1814]
: Disc broader than long, its width about 2/3 of the total length ; anterior margins nearly straight or a little undulated; outer angles obtusely pointed. Vent rather nearer to end of tail than to tip of snout. Snout moderately pointed (the margins meeting at an angle of about 90°), its length 1/5 (young) to more than 1/4 width of disc ; interorbital width equal to or rather less than diameter of eye ; length of eye + spiracle 2 2/3 to 3 1/3 in that of snout. Internasal width 2 1/2 to 2 3/4 in praeoral length of snout. Mouth nearly straight ; teeth of moderate size, with pointed crowns, sometimes worn so that the teeth appear flat ; 30 to 34 rows in the upper jaw. Upper surface of disc mainly smooth, but with areas of minute spinules on anterior parts of pectorals, on snout, round the eyes and on the back ; no ocular or scapular spines, and no enlarged median spines on the disc ; a median series of 17 to 19 sharply pointed, backwardly curved spines on the tail, extending from the pelvic region to the first dorsal fin ; in the young male these extend forward on to the disc, but are much smaller in this region and decrease in size anteriorly ; edges of tail with minute asperities. Lower surface quite smooth. Dorsal fins close to end of tail, separated by a spine. Brownish, with traces of paler and darker spots or rings ; the two females show traces of a pale pectoral ocellus, margined with darker ; lower surface uniformly yellow or white, the tail sometimes stained with darker. Hab. North of the Falkland Islands. This species is close to R. eatonii, Gunther, from Kerguelen, differing chiefly in the shape of the disc, the narrower interorbital, larger and more numerous median spines on the tail, etc. It is not unlike R. oguja, Kendall and Radcliffe, from the coast of Peru, but that species has a shorter snout and smaller and more numerous spines on the tail.
Distribution
Southwest Atlantic: Uruguay to Argentina
[5839]
.
Biology
Oviparous, paired eggs are laid. Embryos feed solely on yolk
[733]
. Eggs have horn-like projections on the shell
[17086]
.
Remarks
shark-references Species-ID=543;
Parasites (arranged by Jürgen Pollerspöck)
Trematoda
Otodistomum plunketi Fyfe, 1953 [21203]
Copepoda
Dendrapta nasicola Irigoitia, Taglioretti & Timi, 2020 [29122]