NCBI GenBank
Bathyraja interrupta
(Gill & Townsend, 1897)
Sandpaper skate
Classification:
Elasmobranchii Rajiformes Arhynchobatidae
Reference of the original description
Diagnoses of new species of fishes found in Bering Sea.
Proceedings of the Biological Society of Washington, 11, 231–234
Image of the original description
No image in first description.
Synonyms / new combinations and misspellings
Raia interrupta, Raja interrupta, Rhinoraja interrupta
Description :



Citation:

Bathyraja interrupta

(Gill & Townsend, 1897): In: Database of modern sharks, rays and chimaeras, www.shark-references.com, World Wide Web electronic publication, Version 11/2021

Please send your images of
"Bathyraja interrupta"
to
info@shark-references.com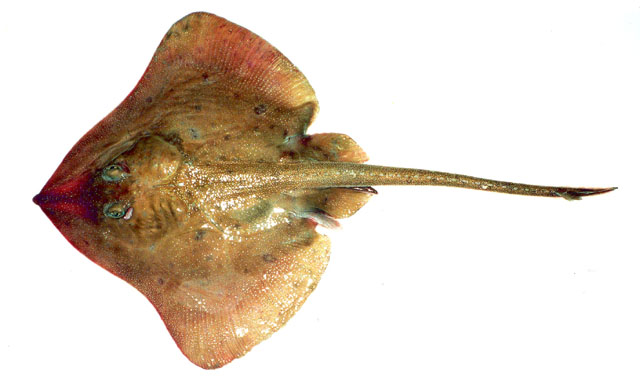 Bathyraja interrupta (GILL & TOWNSEND, 1897), © Alexei Orlov
Common names

Bering skate,

Black skate,

Sandpaper skate
Short Description
A single row of strong sharp spines along mid-dorsal line from a point about 1 interorbital space behind the orbits to the first dorsal fin; 1 or 2 large spines on shoulder girdle; in males, patches of large sharp spines near tips of pectoral fins and extending toward snout along margin of the fin (Ref.
6885
). Caudal fin much reduced; pelvic fins large and deeply notched (Ref.
6885
). All fins covered with scales (Ref.
6885
). Adults slate black on back; juveniles a uniform grayed brown with small brown spots; white on ventral surface; white spot on either side of tail evident in small individuals (Ref.
6885
).
Distribution
North Pacific: off Cape Navarin in the western Bering Sea and Agattu Island (Aleutian Islands) to Cortez Bank, southern California, USA.
Biology
Oviparous, paired eggs are laid. Embryos feed solely on yolk
[733]
. Distinct pairing with embrace. Young may tend to follow large objects, such as their mother
[17086]
. Feeds on squids, fish eggs, detritus and benthic invertebrates
[5868]
.
Size / Weight / Age
86.0 cm TL (male/unsexed;
[17050]
)
Habitat
bathydemersal; marine; depth range 23 - 1500 m
[20202]
Remarks
shark-references Species-ID=513;
Parasites (arranged by Jürgen Pollerspöck)
Cestoda
Dasyrhynchus sp. [16112]
Grillotia musculara (Hart, 1936) Dollfus, 1942 [7411]