NCBI GenBank
Bathyraja albomaculata
(Norman, 1937)
White-dotted skate
Classification:
Elasmobranchii Rajiformes Arhynchobatidae
Reference of the original description
Coast fishes. Part II. The Patagonian region.
Discovery Reports, 16: 1–150, figs 1–76., pls 1–5
Image of the original description
Image in copyright.
Synonyms / new combinations and misspellings
Breviraja albomaculata, Raja albomaculata, Rhinoraja albomaculata
Types
Bathyraja albomaculata
Holotype:
BMNH
: 1936.8.26.103 Paratype:
BMNH
: 1936.8.26.99
BMNH
: 1936.8.26.100
BMNH
: 1936.8.26.101
BMNH
: 1936.8.26.102
Description :



Citation:

Bathyraja albomaculata

(Norman, 1937): In: Database of modern sharks, rays and chimaeras, www.shark-references.com, World Wide Web electronic publication, Version 11/2021

Please send your images of
"Bathyraja albomaculata"
to
info@shark-references.com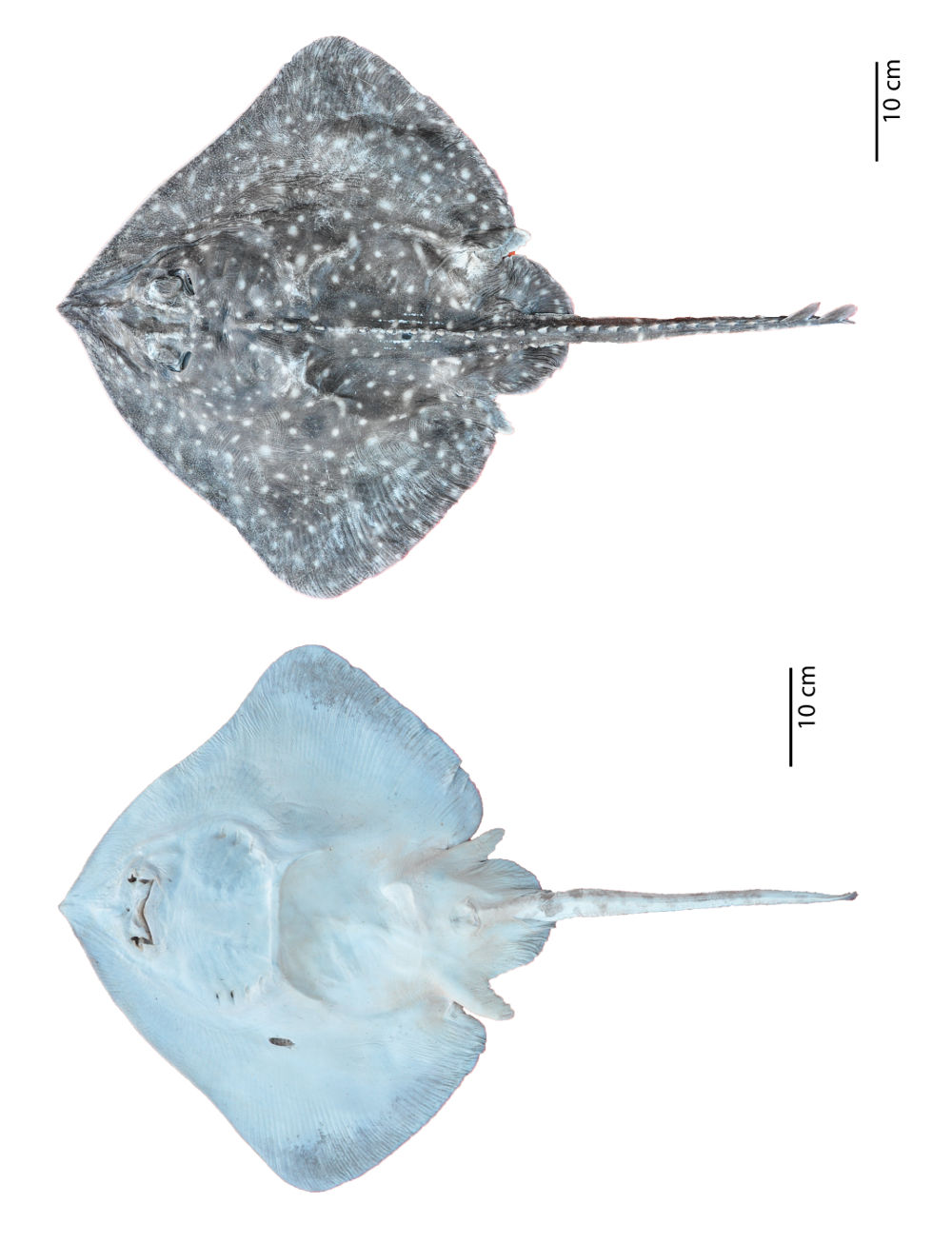 Bathyraja albomaculata (NORMAN, 1937), male © Diego Almendras, Universidad Católica del Norte, Chile
Common names

Raya de lunares,

Raya de manchas blancas,

Spotted ray,

White-dotted skate
Distribution
Southeast Pacific: Guamblín Island, Chile. Southwest Atlantic: Patagonia, Argentina and the Falkland Islands. Also Uruguay (Ref.
58429
). Source:
www.gbif.org
Biology
Oviparous, paired eggs are laid. Embryos feed solely on yolk
[733]
. Eggs have horn-like projections on the shell
[17086]
. Mature gonads are symmetrical in terms of mass, and similar in ovarian follicle number and size (Ref.
58429
). Egg laying possibly throughout the year (Ref.
58429
). Feeds mainly on amphipod and polychaete (Ref.
54177
). As the fish increased in size, polychaetes became important and the importance of amphipods decreased. In larger animals, >40 cm D, isopods and Loligo gahi also increased in importance (Ref.
54177
).
Size / Weight / Age
14.4 cm TL (male/unsexed; (Ref.
27092
))
Habitat
demersal; marine; depth range 130 - 434 m (Ref.
27092
)
Remarks
shark-references Species-ID=496;
Parasites (arranged by Jürgen Pollerspöck)
Myxosporea
Trematoda
Otodistomum plunketi Fyfe, 1953 [21203]