NCBI GenBank
Aptychotrema rostrata
(Shaw, 1794)
East Australian shovelnose ray
Classification:
Elasmobranchii Rhinopristiformes Trygonorrhinidae
Reference of the original description
The Naturalist's Miscellany, or coloured figures of natural objects; drawn and described from nature.
1789–1813, London. No pagination, 24 vols, unnumbered pages
Synonyms / new combinations and misspellings
Aptychotrema banksii, Aptychotrema bougainvillei, Aptychotrema bougainvillii, Raja rostrata, Raya rostrata, Rhinobates (Syrrhina) banksii, Rhinobatus banksii, Rhinobatus bougainvillei, Rhinobatus bougainvillii, Rhinobatus tuberculatus, Rhinobatus (Syrrhina) banksii, Rhinobatus (Syrrhina) bougainvillii
Types
Aptychotrema rostrata
Aptychotrema bougainvillii
Holotype:
MNHN
:
1227
;
Rhinobatus (Syrrhina) banksii
Holotype:
BMNH
: ? specimen not preserved
Description :



Citation:

Aptychotrema rostrata

(Shaw, 1794): In: Database of modern sharks, rays and chimaeras, www.shark-references.com, World Wide Web electronic publication, Version 08/2022

Please send your images of
"Aptychotrema rostrata"
to
info@shark-references.com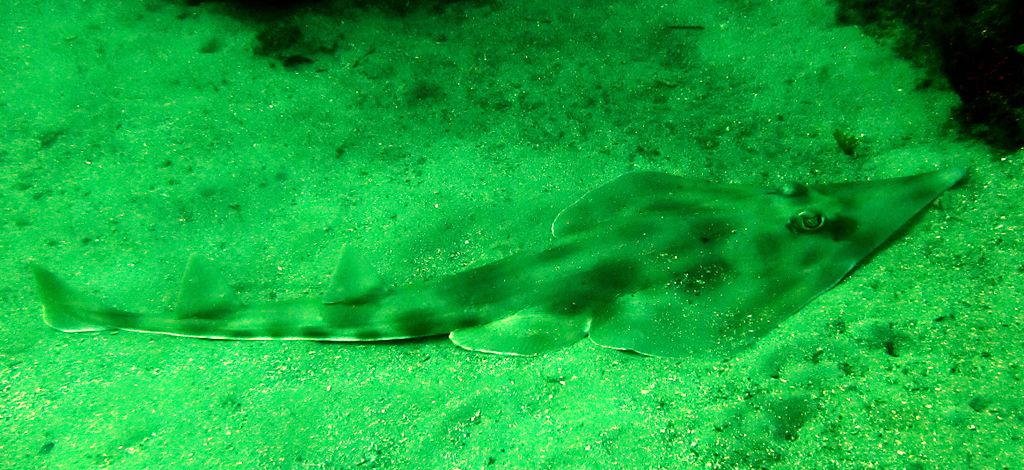 Eastern shovelnose ray (Aptychotrema rostrata) off Sydney by Taso Viglas from Sydney, Australia, wiki
Common names

Geigenrochen,

Australian shovelnose ray,

Banjo fish,

Banks shovelnose ray,

Common shovelnosed ray,

East Australian shovelnose ray,

Eastern shovelnose ray,

Guitarfish,

Long-snouted shovelnose ray,

Shovelnose ray,

Shovelnose shark,

Southern shovelnose ray
Distribution
Western Pacific: endemic to Australia. Source:
www.gbif.org
Human uses
fisheries: commercial
Biology
Ovoviviparous with up to 4 in a litter. Size at birth about 13 cm. Found on soft bottoms, in bays, seagrass areas, and sometimes near rocky reefs
[1658]
. Also found in lower parts of estuaries. Feeds on bottom crustaceans, molluscs, and fishes.
Size / Weight / Age
72.0 cm TL (male/unsexed; (Ref.
9909
)); 120 cm TL (female)
Habitat
demersal; brackish; marine; depth range ? - 60 m
[1658]
Remarks
shark-references Species-ID=355;
Parasites (arranged by Jürgen Pollerspöck)
Myxosporea
Monogenea
Cestoda
Nematoda
Copepoda